Prestige vehicles such as Mercedes, BMW, Audi, Volkswagen, and Range Rover require specialist car mechanics who are professionally qualified and well-equipped to work on European cars. On the other hand, European car repair services are to be performed by specialist mechanics in Melbourne to make sure everything is checked.
Regular car servicing, the preferred figure being 15,000 kilometers, is highly recommended. It is crucial to get your car serviced regularly to check on any faulty conditions, electrical integrity, or any worn pieces of track. Since basic upkeep is cheaper than major repairs caused by neglect, car servicing is crucial for improved longevity of the vehicle. Expert European mechanics provide a scheduled servicing through your dealer, and has three major benefits above all the others:
● You get genuine parts and expertise of skilled workmen to work on your European car.
● You obtain a written record of the car's service history, which becomes important for buyers while you opt to sell the car away in the future.
● Provision of a thorough check-up of the car and immediate focus given to any car component that needs a replacement, be it spark plugs, timing belts, and so on. This is performed to prevent any last-minute surprises, such as a breakdown or an engine failure, and so on.
Melbourne's European Car Service Specialist
A European car mechanic will possess car maintenance, servicing, and a repair checklist to perform the required services. In this digital era, car engines are more advanced than before and include integrated state-of-the-art, computer-controlled engine management systems. A European car mechanic will thus carry a checklist that must include the following key functions to be checked and rectified, if necessary: The Checklist is of a broad category of 5 different clusters, and they are as follows: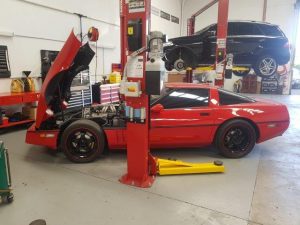 1) The Basic car safety checklist
● Seatbelts are checked for tension
● External Lights are checked and bulbs are replaced, if necessary
● Ensuring Handbrakes work properly
● Checking of Windscreens and Mirrors for any cracks
● Windscreen wipers are checked for wear on wiper blades
● Ensuring that the Horn works properly
● Checking of Fluids such as the engine oil and engine coolant levels
● Ensuring that the Tyres have correct pressures, and checking of the treadwear
● Spare tyre, toolkit, and jack are checked
Fluids checklist
● Engine oil
● Radiator coolant
● Brake fluid
● Power steering fluid
● Windscreen washer fluid
● Clutch fluid (manual cars)
● Gearbox oil
● Differential fluid
Tyres checklist
● Tyre pressures,  Spare tyre
● Carjack and toolkit, Treadwear
Lights checklist
● Headlights
● Indicators or Hazard lights
● Brake lights
● Reverse lights
● Park & Fog lights
Other general things that are on the CheckList
● Radiator hoses are checked for leaks and are fixed
● The engine air filter is checked to ensure that it is neat
● The battery is free of any corrosion around terminals
● Fan belts are ensured of no sounds on starting the engine.
How To Choose The Right European Car Repair And Mechanic In Melbourne?
When it comes to world-class cars, regular servicing is a must to prevent any huge cost overhauls. Check for the right European car mechanic in Melbourne by verifying if they have upfront nominal pricing to repair or service your car. Additionally, check to see if They will book your car service or repair in promptly and undertake the work in a timely manner so you can get back to your day, without any stress of picking up your car after service, and so on. Also, it is important to find out the level of customer relationships they maintain. HC Garage is a one-stop-shop for all your European car repair and servicing requirements in Melbourne.
With all the above-mentioned qualities and excellent customer service, they have become the most sought-after European car service center. You can avail of HC Garage's car services by calling them on 0415 467 601 or emailing them at [email protected] for the most competitive prices in Melbourne.